Once again, PtX once grabbed the headlines when GESEK invited to a mini conference about the export potential for Danish energy solutions. Three magic keywords were identified if we are to succeed in unfolding a future export adventure: Holistic thinking, collaboration, and speed.

An inquisitive audience participated together with a strong debate panel in AI Innovation House in Vejle on 22 May 2023, when GESEK – the Committee for Green Energy and Sector Coupling – held a mini conference in connection with its first ordinary annual general meeting.
The theme of the conference was how to translate the Danish positions of strength within green energy into even more exports in the coming years.
The Head of Office of the Ministry of Foreign Affairs, David Schjerlund, began by charting the international course and pointed to Great Britain and Germany as the current largest buyers of Danish energy solutions.
CEO of European Energy A/S, Knud Erik Andersen, then invited the participants on a virtual tour of a PtX facility and heralded the start of a possible PtX adventure in Denmark.
The Director of the Danish Energy Agency, Kristoffer Bøttzauw, took up the PtX baton in his speech and promised strong authority support in the development of PtX in Denmark in the coming years.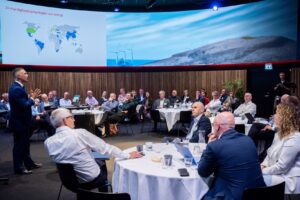 Impatient companies
Afterwards, a debate took place in a panel where the speakers were supplemented by Esbjerg's Mayor, Jesper Frost Rasmussen, CEO, Lars Tveen from the Bitten & Mads Clausens Foundation and Steen Brødbæk, CEO of Semco Maritime and Chairman of GESEK.
The debate had not been going on for many minutes before a strong impatience could be observed from the company representatives on the panel. Bureaucracy, outdated legislation and the development of infrastructure were pointed out as some of the challenges that need to be addressed to create even more speed in the transition.

Lars Tveen supplemented their points with another key requirement, namely clarity:
– It is important that there is a clear, red thread in what we do and that we think in total solutions as opposed to individual components. The goal must be that we can explain everything we do in a pixi format so that we don't get bogged down by technical details as things will never get going then, he said.
See video report in Danish.